HOME
Mariner




Copyright © 2019

All rights reserved
1967 AMC Rebel Rambler MARINER Stationwagon

Number Produced: 600
Public Relations Department
American Motors Corporation
14250 Plymouth Road
Detroit, Michigan 48232
FOR RELEASE AM'S SUNDAY, FEBRUARY 26, 1967
A nautical theme of anchors and stars highlights the interior of the Mariner, one of three special Rambler Rebel V-8 station wagons which will be test marketed in specific areas this spring and summer by American Motors. The Mariner, which is designed for coastal areas, is Barbados blue with full-length side panels of simulated bleached teakwood planking. Narrow black horizontal stripes in the panels accentuate the contour of the body. It will be sold on the West Coast and the Atlantic and Golf Coasts of Florida.
| | | |
| --- | --- | --- |
| Original Mariner poster ad: | | Article from May 1967 Automotive News Weekly: |
---
My Mariner Restoration Project was Completed in the summer of 2000.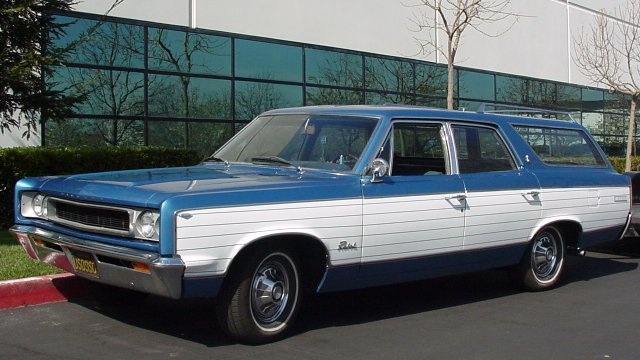 Photo of the original seats and siding of Terry Gale's Mariner at the Rambler Ranch, CO: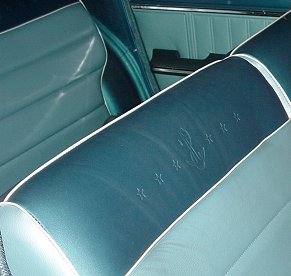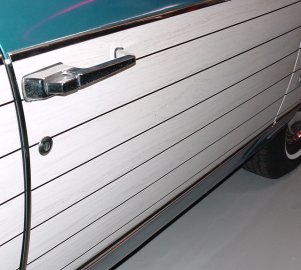 Photos of the Emblems: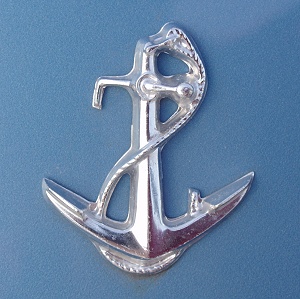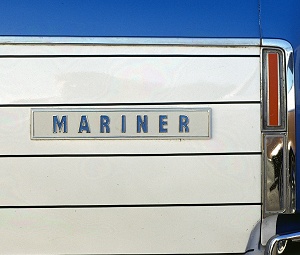 Photo in front of the AMC shaped bushes, at the original AMC testing grounds during the Kenosha 2002 100th Anniversary show: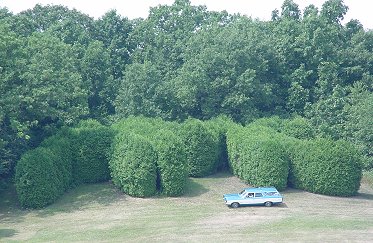 Here it was in 1970: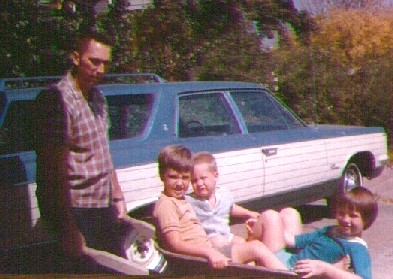 My father was the original owner. (That's my father holding me, my brother and my sister in the wheel-borrow). The original white siding cracked and peeled off from being in the sun, so it was repainted in 1977 without the siding. 20 years later it had faded to a gray color.
Photo taken September, 1999: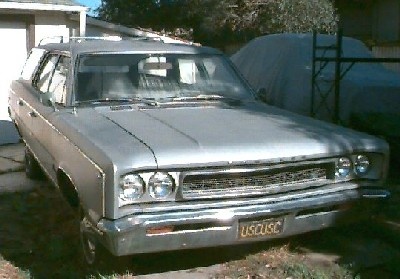 I couldn't find any source for a vinyl tape for white teak wood siding, so I had them paint it white and added black pin-striping. This should last longer anyway. It took me almost a month's time to get the miles of trim reinstalled. Painstakingly cleaning and polishing each piece, mounting the mould clips, etc. I found a source for the mould trim clips called MRG USA which has just about everything you can imagine. They even had brand new clips which were exactly the same as my original ones. New headliner has been installed, sun visors recovered, and new carpet installed. I repaired the original AM radio and cleaned it up, bought a new 4x10 speaker, got new bulbs for the instrument panel. I added insulation and plastic sheet for waterproofing the door upholstery. The dash was sent to justdashes.com for restoration. I found a source, American Performance, for replacements for inside felt and outside rubber wiper strips for all door windows and tailgate window, and new door weatherstripping. I might get all chrome metal parts rechromed someday (currently most chrome parts are age cracking or rust pitted).
Modifications were done over the past 10 years to improve performance for towing my race car trailer. Modifications: Trailer hitch with electric brake control, air shocks, dual exhaust, MSD5, Pertronix magnetic points, Carter carburetor, Edelbrock manifold, electric fan, 3-core radiator, new brakes, new brake lines, new master and slave cylinders, rear sway bar, trany oil cooler, Goodyear tires, new front shocks. I replaced the 290 with a 360 (out of a 71 Javelin). I rebuilt the 360 with new rings, bearings, new valves, valve springs, balanced, and had the cam done by Elgin Cams for a high-torque "tow" grind. The trany is a Borg Warner BW12 which was the heavy duty option for the 71 Javelin. I had to weld a longer shift linkage to it to get the column shifter to line up. I still have the original 290 and trany, and I plan to restore it back to stock condition some day.