HOME



Copyright © 2019

All rights reserved



This site is dedicated to the 1967 AMC Rebel Rambler Regional Stationwagons. Much of the info on this site was copied directly from the original AMC marketing "press kit".
My father bought the Mariner new. I grew up with many family trips and have fond memories. I restored the Mariner in 2000 after learning how rare it was. In my research I also discovered the even lower production Briarcliff and Westerner, so I decided to seek them out and acquired the Briarfliff in 2002 and the Westerner in 2003. Below is a photo of all 3 wagons taken Feb 22, 2003, together for the first time in 36 years! This completed my collection of some of the three rarest AMC wagons ever built. These wagons were featured in the September 2006 issue of Hemmings Classic Car magazine, and the August 2003 issue of Vintage Truck magazine.
Around 2012 I sold the Briarcliff and Westerner to Terry Gale of the Rambler Ranch in Colorado. Terry already owned a Mariner in more original condition than mine, so he is now the only known owner of all three of these special regional wagons.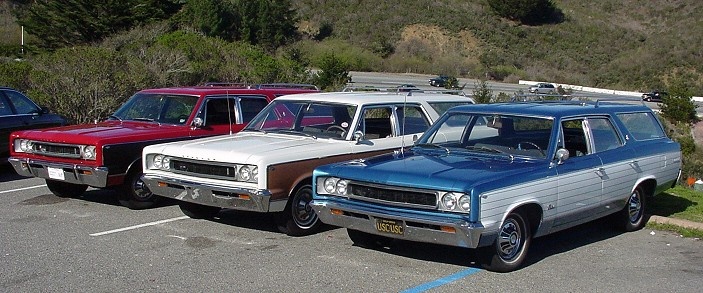 ---
Public Relations Department
American Motors Corporation
14250 Plymouth Road
Detroit, Michigan 48232

FOR RELEASE AM'S SUNDAY, FEBRUARY 26, 1967
DETROIT, Feb. 26 - - Three Rambler Rebel V-8 station wagons with special styling themes for specific locations will be marketed in 23 areas of the United States this spring and summer, American Motors vice president of automotive sales Thomas A. Coupe said today. The three station wagons - - Westerner, Mariner and Briarcliff - feature distinctive side paneling and interior upholstering which capture the flavor of the locale where they are to be sold. "Our objective in producing these unique station wagons is to determine in selected test market areas whether the buying public is favorably inclined toward special identification vehicles, " Coupe said. "These wagons will identify the owners with the Midwest and Southwest through a ranch theme, with the coastal areas through a nautical theme, and with the East through a country and hunt club theme, " he said.
The Westerner is Frost white with simulated natural tan leather grain panels running the full length of the sides from the upper character line to the lower molding. Bold panels of stallion brown vinyl, with a look of richly tooled leather, are used on seat backs and door panels in combination with white antelope grained vinyl to highlight the Western look inside.
The Mariner is Barbados blue with full-length side panels of simulated bleached teakwood planking. Narrow black horizontal stripes in the panels accentuate the contour of the body. Anchors and stars decorate the dark blue suede bolster panels of the seats, which also feature white piping and broad horizontal pleated inserts of medium blue antelope grain vinyl to complement the exterior color combination.
The Briarcliff is Matador red with simulated black camera grain side panels. Black antelope grain vinyl is used on seats and door panels to give the interior a look of luxury.
Each of the special station wagons has as standard equipment a 200-horsepower "Torque Command" 290 V-8 engine, automatic transmission, power steering, power brakes, power tailgate window, push-button radio, wheel discs, remote control mirror, light group, electric clock, whitewall tires, special-duty springs and shocks, and individually adjustable reclining seats. Options offered include a 280-horsepower 343 cubic inch V-8, air conditioning, and solex glass windows.
The Westerner will be marketed in the Dallas-Fort Worth, Denver, San Antonio, Houston, Chicago, Milwaukee and Detroit areas; the Mariner in the Los Angeles, Portland, Eugene, San Francisco, Seattle, Miami and Tampa-St. Petersburg areas, and the Briarcliff in the Baltimore, Philadelphia, Pittsburgh, Providence, Hartford, Cincinnati, Cleveland, Albany and Memphis areas.